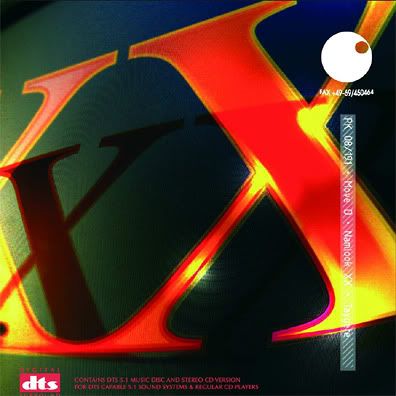 Care of I-tunes (thanks to Nickie who has this on her Laptop)
First play: 15.10.09: Hmmm...interesting, but not outstanding. I'm disappointed, think it's the worst of the series and I'm glad I didn't buy the CD.
Second play: 16.10.09: Tracks one & two are growing on me (especially two). I might just have to buy the CD afterall :)

Third play: 16.10.09: Brilliant, not as obvious as some of David's and Pete's stuff (you'll have to play it several times I think ;))...but overall I'd recommend it. Another fine addition to the series.
1. Matter - Part I 25.33 min...
A vocal sample soup of a track. Things pick up later with some notes that sound like they come from a kid's toy. Nice stuff and then finally at the 11 minute mark a bass drum starts to be felt and it's soon joined by a meandering piano melody. Better than I first thought...it's growing on me I think. The panned 'sucking'-synth reminded me of Irimn Schmidt's album

Toy Planet

, a bit like

Rapido De Noir

perhaps?
2. Matter - Part II 13.51min.
More Soup with the odd plucked and quirky melody floating around over a deep and dark ambience. Some drums are then added, with new panned synths. Very nice indeed. More piano is layered on top as the track swirls and loops underneath...and the piece builds. The best so far.
3. Antimatter - Part I 18.13 min.
Popol

Vuh meets Pete Namlook I thought, but this is soon followed by some distorted Russian voice samples, as sax/sitar/piano swap notes. Once again drums eventually arrive, but this time hand-in-hand with some xylophone...this drops away to leave just the drums which gain a funkier edge with an echoing organ pulse and a relaxed club-lite melody. The piano returns, feeling for a melody but it soon disappears leaving a flim-flam sample and a head nodding beat. Pete checks to see if his reverb unit will go up to 11...as some new vocal samples roil, whisper and repeat
.
The drums fade out but the piano & xylophone play a few notes attempting to hold the voices together to close. Good stuff
.
..needs to be played again soon I think.
4. Antimatter - Part II 8.19 min.
Just as track 3 finishes, so track 4 starts.
The kid's toy is back
,
as is the plucked DX synth notes. A sequence builds, some drums are added, synths are panned, a few things are faded in and out...and long fade...and that's it.